Welcome, please join us...

We want you to become an active partner in our Greater Burgess Community Association.
Who we are
The Greater Burgess Community Association (GBCA,) established in 1998, has earned a reputation as a respected and responsible organization, representing the residents, neighborhoods and businesses of Burgess by engaging in a wide range of issues such as current and long range planning; road improvements, storm water drainage and public safety. By interfacing directly with local and state officials, the GBCA is a voice for Burgess area residents and businesses.
The GBCA holds quarterly meetings, open to the public, to provide an information exchange between Burgess residents/businesses and Horry County/South Carolina state officials on a variety of community topics and local experts on topics of interest to our membership. Regular emails to our members provide timely updates from county officials and others on a range of issues.
The GBCA works to foster a sense of community in our changing environment, while attempting to preserve our area's rich cultural heritage and human history.
Where We Are
The Burgess Community is an unincorporated area in Horry (O-ree) County, South Carolina. The community is approximately 28 square miles in size. The western boundary is the Waccamaw River and the eastern boundary is the US Highway 17 Bypass. The southern boundary is the county line between Horry and Georgetown County and the northern boundary is near the intersection of Hwy 31 and Hwy 707. Many residents are not aware they live in the Greater Burgess Area since their mailing addresses are in either the 29588 (Myrtle Beach) or 29576 (Murrells Inlet) zip codes. Prior to 1976, Burgess had its own Post Office and people could readily identify themselves as Burgess residents.
Our Burgess Neighborhood Network includes 60 separate communities.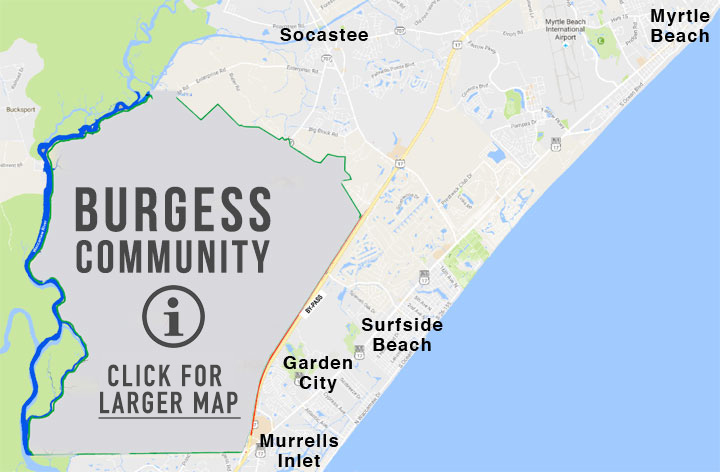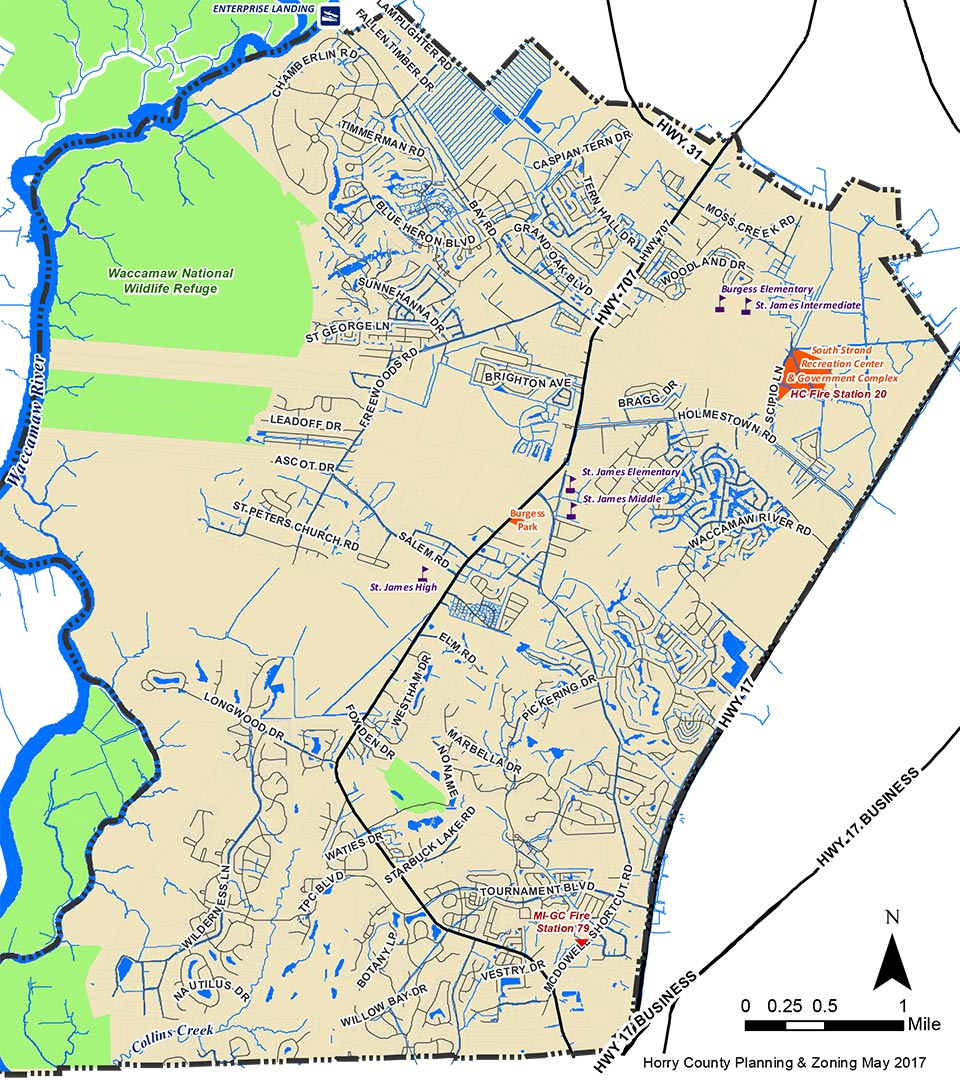 Statistics
Click below for more information
Area:
17,939 acres
28 Square Miles
Boundary:
Bounded by US Highway 17 Bypass to the east and the Waccamaw River to the west. The southern boundary is the jurisdictional line between Horry and Georgetown counties. The northern boundary is less definitive, but ends north of Holmestown Rd and south of Highway 544.
Number of Parcels:
Number of Parcels: 17,044
Mean parcel acreage: 1.05 acres
Number of Structures:
Number of Structures: 12,318
Structures in acres: 631 acres
Impervious Area:
Impervious Area (excluding roads):
1,043 acres
% of total area: 6.2%
Acreage water:
Acreage water (including wetlands & excluding Waccamaw River):
4,964 acres
% of total area: 30%
Urban density:
Urban density (< 10,000 SF):
9,202 parcels
1,446 total acres
% of total area = 8.1%
Suburban density:
Suburban density (< 1 acre & > 10,000 SF):
6,241 parcels
2,618 total acres
% of total area = 14.6%
Rural density:
Rural density (> 1 acre):
1,601 parcels
13,875 total acres
% of total area = 77.3%
Roads:
Roads:
Paved Miles = 161 miles
SC Hwy 707 = 7.25 miles
McDowell Shortcut = 3.81 miles
Holmestown Road = 1.98 miles
Freewoods Road = 2.62 miles
Bay Road = 2.47 miles
Schools:
Burgess Elementary
Capacity - 740
Enrollment - 574
St. James Middle
Capacity - 1,112
Enrollment - 1,049
St. James Elementary
Capacity - 746
Enrollment - 790
St. James High
Capacity - 1,551
Enrollment - 1,372
Population
Horry County has experienced significant growth over the past four decades. In the 1990 census, the Burgess Community population was approximately 3,000. In the 2020 census our area grew to 32,000. If the Burgess Community was a city, it would be the second largest city in Horry County. For comparison, the City of Surfside Beach's population is less than 4,000.
Burgess has transitioned from a rural community to a predominantly suburban community during the last thirty years. Numerous master planned communities were have been developed since 1990. We led the development of the Burgess Community Area Plan, a guiding document for long range planning adopted by County Council in 2012. Large tracts of land remain undeveloped at this time, retaining some of the rural characteristics that preceded Burgess' rapid growth. These large parcels have a high potential to be developed, making the work at the Greater Burgess Community Association even more impactful.
Accomplishments:
The Greater Burgess Community Association initiated ideas for and supported road improvements and traffic safety projects such as:
Widening of SC Highway 707
Building a new road serving as an evacuation route to cross the Waccamaw River
Improving the intersection of US 17 Bypass and Holmestown Road
Extending the Carolina Bays Parkway from SC 544 to Highway 707
Improving the intersection of McDowell Shortcut Road and Tournament Boulevard
Paving McDowell Shortcut Road
Repaving Tournament Boulevard
Improving the intersection at US 17 Bypass and Tournament Boulevard
Installing traffic signals on SC 707 at Tournament Boulevard and at McDowell Shortcut Road
Community Improvement Projects:
We updated Overlay Zones for Highway 707 and Holmestown Road
We review all rezoning and variance requests, monitor development issues and provide feedback to Horry County staff and elected officials
We supported a change to an existing ordinance that promotes landscape buffers along certain arterial and collector roadways within the Burgess Community
We have identified environmental and storm water drainage issues and sought solutions
We monitor public safety services, strongly supporting efforts to improve both police and fire protection
We strive to make the Greater Burgess Community a wonderful place to live, work and play.